On Friday, November 16, during the 2012 Festival of Faiths, Rev. Canon Sally G. Bingham, an Episcopal minister and Canon for the Environment in the Diocese of California, was presented with a Lifetime Achievement Award by the Center for Interfaith Relations. The award was presented to Rev. Bingham following her keynote address, "Be Careful What Your Burn," which addressed the morality of energy efficiency, along with its environmental, social and practical benefits.
"The purpose of this award is to recognize and honor a person who has made a sustained contribution to humanity that is attributable to the person's faith tradition," says Center for Interfaith Relations Executive Director Kathleen Lyons.  "Rev. Bingham ideally satisfies this purpose."
The Lifetime Achievement Award was made for the first time in 1998 to the 102nd Archbishop of Canterbury, The Right Reverend Lord Robert C. Runcie, and to Sen. Wendell Ford of Kentucky.  Other recipients since then have included Muhammad Ali, Dr. Martin Marty, Gregory Peck, Dr. Sayyid Muhammad Syeed, Christina and Owsley Brown II and Rabbi Chester Diamond.
When Rev. Bingham entered the Episcopal seminary in 1986, she was 45 years old and the mother of three children, all full-time students. Her inspiration for taking such a step was her observation that the members of her church prayed as good stewards of the earth, but lived as bad ones. In prayer they asked to be given "a reverence for the earth as
[God's] own creation, that [they] may use its resources rightly in the service of others."  In their lives, there was nothing to suggest that creation inspired either reverence or a commitment to serve others.  Having made this observation, Bingham went on to note "that the Holy Eucharist symbolizes not only Christ's presence, but also our dependence on nature; without bread, water, and land, we could not survive."
Rev. Bingham began her ministry out of a profound realization that faith and care for the environment are inextricably linked.  Moreover, she is widely credited with being one of the first religious leaders to insist that global warming is a moral issue. In 1993, she spearheaded the founding of the Regeneration Project as an educational program for clergy and congregations, with a mission to deepen the connection between ecology and faith.  In 1997, this Project expanded to become the Interfaith Power and Light (IPL), which has now become a national network of over 10,000 congregations in 39 states (including Kentucky) that are committed to reducing their carbon footprint as a means of caring for creation.  IPL advocates for sensible policy on global warming and energy.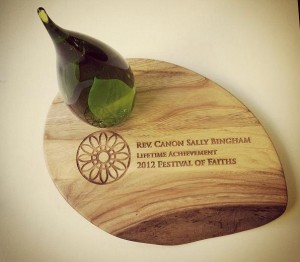 During her environmental ministry over the past 20 years, Rev. Bingham has earned the highest recognition for leadership in directing thousands of people to put their faith into action through energy stewardship and advocacy.  She has recently joined President Obama's Advisory Council on faith-based and neighborhood partnerships; she is a member of the Forum on Children and Nature; she serves on the board of directors of the Environmental Defense Fund, the Environmental Working Group and the U.S. Climate Action Network; she is on the national advisory board for the prestigious Union of Concerned Scientists.   In addition, she and the organization that she founded, Interfaith Power & Light, have received numerous awards, which include the 2007 U.S. EPA Climate Protection Award and the Energy Glove Award.  Rev. Bingham was included in Dorka Keehn's Eco Amazons:20 Women Who Are Transforming the World.  She has received honorary Doctorates of Divinity from The University of the South, The Church Divinity School of the Pacific, and the College of the Holy Cross.  She is the lead author of Love God, Heal Earth (2009), a collection of 21 essays on stewardship written by herself and other religious leaders.
Congratulations and thanks to Rev. Canon Sally Bingham for her many contributions to our community.