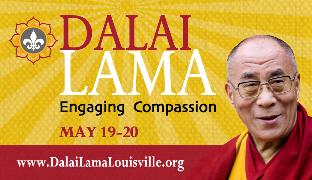 The Drepung Gomang Institute (DGI), Louisville's Tibetan Buddhist Center, is deeply pleased and honored that His Holiness the Dalai Lama has accepted its invitation to visit Louisville May 19-20, 2013. Don't miss this opportunity to hear His Holiness speak about a subject dear to his heart:
Engaging Compassion
DGI has released new tickets for the Public Talk and Public Teaching. A limited number of tickets will be available for:
Public Talk
Sunday, May 19 — $100 and $50 value
Public Teaching
Monday, May 20 — $75 value
Some price levels of tickets are VERY limited – please purchase early for best selection!
More information is available at www.dalailamalouisville.org.