The Center for Interfaith Relations is proud to have the Passionist Earth and Spirit Center in Louisville, Kentucky, as one of its presenting sponsors for the 2013 Festival of Faiths, Sacred Silence: Pathway to Compassion. The Passionist Earth and Spirit Center inspires, educates and mobilizes religious institutions and people of faith to assume an active role in caring for God's creation, embracing Gospel justice and nurturing spiritual wisdom.
As part of its programming and in keeping with the Festival of Faiths theme of "Sacred Silence", the Passionist Earth and Spirit Center is offering several programs throughout September and October that focus on mindfulness meditation, spiritual formation, transformative learning and community outreach/action. Check out the following schedule to see what is available.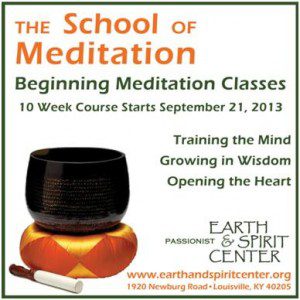 For more information and to register, log onto WWW.EARTHANDSPIRITCENTER.ORG, call (502) 452-2749 or email info@earthandspiritcenter.org.
Beginning Meditation Course
Learn to meditate – receive basic instruction in Christian insight meditation and guidance for applying meditative wisdom in daily life. This 10-week program meets Wednesdays, with options for attending morning or evening sessions and begins with a retreat on Saturday, September 21.
Mindfulness Meditation in Healthcare – Professional Development
Mindfulness Meditation in Education – Teacher Training
In both of these one-year training programs, participants learn to develop a personal meditation practice and receive training on how to bring mindfulness into their profession. Educators and teachers learn how to bring mindfulness into schools. Healing and healthcare professionals learn techniques for benefiting of patients and providers alike. Classes begin Saturday, September 21.
Mindfulness Based Stress Reduction Program
This intensive eight-week program offers an integrated approach to managing stress while enriching your life. The program begins Thursday, September 5.
Introduction to Meditation Workshop
This free workshop explores the physical, psychological and spiritual benefits of mindfulness meditation. Wednesday, September 4, 8:00–9:30 a.m.
Sunday School: Evolving Universe–Evolving Faith
Join this exciting adventure in the human search to know the world our role in it. Recover a sense of belonging. Five Sunday sessions, from 11:30 a.m. to 2:00 p.m., begin Sunday, September 22.
Aging as a Transformational Journey
This six-week course explores the spiritual journey of aging. It is a forum, a process and a community for those who want to age with greater wisdom and grace. The course begins Monday, September 9.
Learn the Enneagram
Gain insight into yourself, help in interpersonal relationships, and aid in spiritual development. Learn the nine personality types – and help in where you stumble. Saturday, October 12, from 9:00 a.m. to 5:30 p.m.