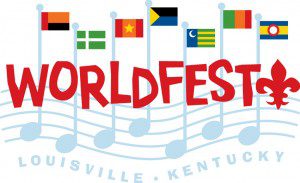 Two new features have been added to the 11th annual WorldFest, which will take place on the Belvedere in downtown Louisville over Labor Day weekend, August 30 to September 2, 2013.
The World of Spirituality and Compassion exhibit will demonstrate the importance of open and shared dialogue about what compassion wants of us in our places of business, our houses of worship, our family life and in our own personal development. The exhibit will be located at the top of the Belvedere next to the Global Village and will feature morning meditations, Tai Chi and Yoga sessions as well as "Open Space Discussions" about compassion in the workplace, compassion for animals and compassion for the environment.
Signature Healthcare is the exhibit sponsor and will offer one of its "Spirituality in the Workplace" presentations on Friday, August 30, at 2 p.m.
Zen gardens, finger labyrinths and peace postcards will be among the children/family activities offered throughout the weekend, and open drumming sessions will take place the evenings of August 30 and September 1.
Collaborative partners of the WorldFest World of Spirituality and Compassion exhibit are the Mayor's Office for Globalization, Signature Healthcare (Exhibit Sponsor), the Center for Interfaith Relations, Interfaith Paths to Peace, Compassionate Louisville, the Passionist Earth and Spirit Center and the Joy of Drumming.
CLICK HERE TO SEE THE WORLD OF SPIRITUALITY AND COMPASSION EXHIBIT SCHEDULE.
There will also be a "compassionate call of the wild" at WorldFest 2013, as several animal welfare organizations will participate in the Compassion for Animals and the Natural World exhibit. The exhibit will showcase the importance of animal welfare issues in our community – issues that our community of many cultures can address collectively. The exhibit will be located at the top of the Belvedere next to the children's play area to the left of the George Rogers Clark statue.
Information, demonstrations and, yes, animals will be presented by the Arrow Fund, Louisville Zoo, Animal Care Society, Louisville Metro Animal Services, Kentucky Humane Society, Alley Cat Advocates, Hand-In-Paw Rescue, Paws with Purpose and Louisville Nature Center.
CLICK HERE TO SEE THE COMPASSION FOR aNIMALS AND THE NATURAL WORLD EXHIBIT SCHEDULE.
For more information about WorldFest 2013, log onto www.louisvilleky.gov/globalization/worldfest.