By, Dorothy Hatic
"What matters is being spontaneously open to the reality of God." Thomas Merton
In celebration of the one hundredth anniversary of Thomas Merton's birth, I have been re-acquainting myself with Thomas Merton. I first came across his work in 1995, long after his death and lifetime, some of which we spanned together. And had I been a fully awake individual in the 1960's, I might have had the great privilege of having known of him in his lifetime. But it was quite by chance, when my son was in high school and had to do a research paper on Thomas Merton, that I came to be a Thomas Merton devotee.
Reading his book of letters and his autobiography and collecting books of his, each of which became my "favorite" , I joined a chapter of the Thomas Merton Society and found myself sitting, oddly enough, in a room of quite formidable men who talked in scholarly text about Thomas Merton. I listened mostly, which is what I do when I am learning about something, or in this case, someone, and tried to fathom who this man was who inspired so many.
I was not yet on my own spiritual journey. Or perhaps I was and did not define it as such. I was, however, absolutely fascinated by this man, who wrote letters to every conceivable public figure and whose own spiritual journey felt amazingly akin to my own. That is to say that he knew of a suffering childhood, asked the same principled questions of his elders, and followed his heart to the very end.
AND, he enjoyed writing as I do. It was well recognized by his superiors that he had a gift and they allowed and encouraged him to pursue that gift. And because of that, his gift and the generous forum from which he was able to share it, we are all the better for it. His calling, his gift for writing, his wisdom, and his well read books, all, benefit us and will continue to benefit us for centuries to come. Thomas Merton will continue to beckon us to our own great heights and thoughts….to our own spiritual awakenings, and to the wisdom that lies in his words, as a road map for us to better our world and to evolve our unity consciousness to Christ consciousness, which is where Thomas Merton lived.
The above quote speaks volumes to us all. Especially in this day of open dialogue, global communication, and an awakened consciousness of one connection to everyone and everything, Thomas Merton's words reflect an opening for us, regardless of religious doctrine or preference, and regardless of spiritual direction or faith-based designation, to join hands, hearts and minds in one idea that has the possibility of uniting us in a common good. Imagine the connections that can be made by contemplating that one idea: being spontaneously open to the reality of God. On a personal level or a planetary scale, if only we could all come together on that one notion and proceed accordingly.
Thomas Merton knew that mankind had to come together in peace and common intention to survive. All of us who seek to raise the level of consciousness…who are to take part in the collective shift to the next level…know that we are all connected. Our ecosystems, our hearts, our energies, our ultimate knowing even, are one. Although I am not a resident of Louisville, I am not Catholic, and I do not profess to be more than a devoted student of Thomas Merton, it was Thomas Merton and his understandable and attainable writings, as well as his profound wisdom, that set me on my spiritual path, which have, in turn, lead me to this very moment in time, present with all that is, to be writing a blog for the Center for Interfaith Relations, whose motto and byline, whose focus and direction, whose influence in my own life, have brought countless moments of dialogue and seeds of contemplation, and whose dedication to bringing us a celebration of Thomas Merton's 100th anniversary of his birth promises to deliver to their community, and beyond, an unforgettable testament to the love and humility of a truly beautiful and spiritual man. I have no doubt that Thomas Merton is smiling and loving, not only the attention to him, but also the celebration that his beloved Louisville is planning in which to honor him. Moreover, it is appropriate that an organization which stands for one unified community, 'spontaneously open to the reality of God', should be honoring Thomas Merton in their always splendid and exemplary efforts to bring forth their MANY FAITHS. ONE HEART. COMMON ACTION.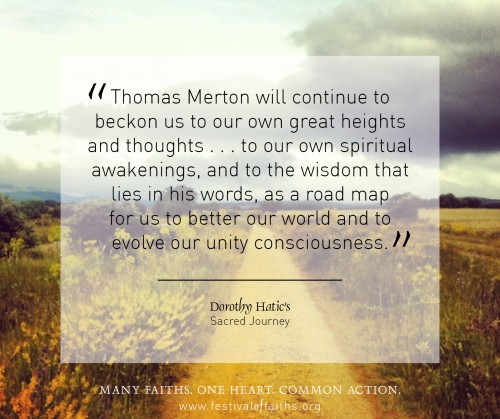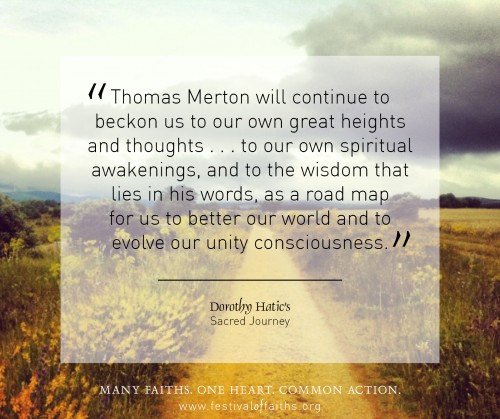 [vc_column width="1/1″ el_position="first last"] [vc_separator show_border="yes_boder" top="20″ bottom="20″ width="1/1″ el_position="first last"] [vc_promo_box width="1/1″ el_position="first last"]
DOROTHY HATIC
Dorothy Hatic, founding member of Conscious Dimensions, LLC, a company dedicated to transforming consciousness, is a co-creator of N-1Games, a multi-dimensional edutainment division of Conscious Dimensions. Dorothy is certified in Level I and II of the Barrett Cultural Transformational Tools (CTT), a certified enneagram teacher, and an active student/participant in Cincinnati's School of Conscious Living. She also serves on the Board of Consciousness in Action, a non-profit whose mission is to raise the level of human consciousness by supporting educational initiatives toward that end.
[/vc_promo_box] [/vc_column]