By Dana Hatic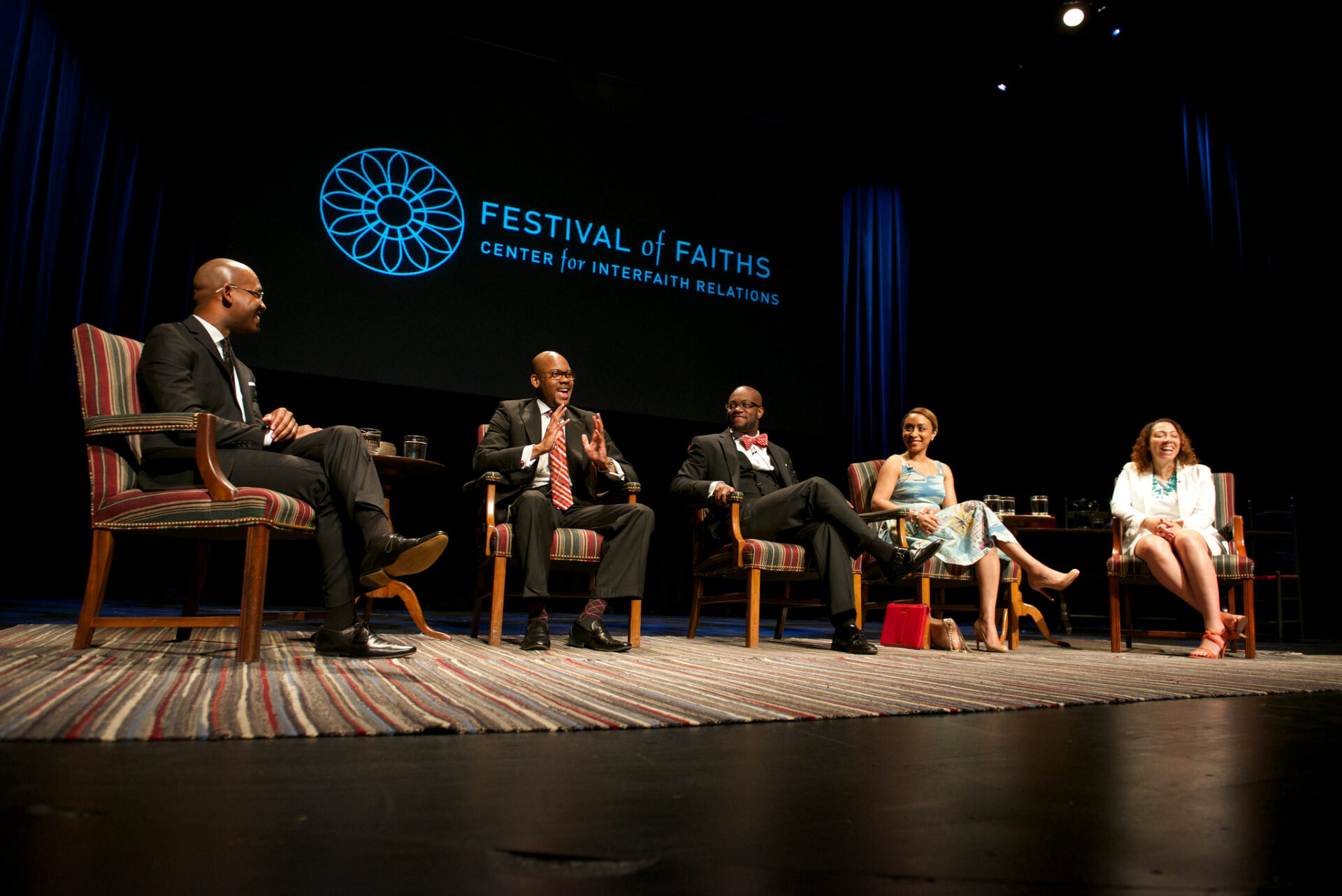 A panel of faith leaders gathered at the Festival of Faiths to deconstruct the concept of otherness and its role in race, class, and gender issues.
Rev. Neichelle Guidry Jones, Rev. Willie Francois III, Elizabeth Jones, Rev. Robert Harvey, and Rev. Daniel Corrie Shull fleshed out the perpetuation of otherness and the need to look internally to address institutionalized biases.
Elizabeth Jones, an attorney pursuing her Ph.D. in Pan-African studies at the University of Louisville, had worked as a public defender in New Orleans. She said the concept of othering was not a new phenomenon in the U.S., but that there was a historical point where blackness was created, alongside slavery.
"Embedded in many systems of theological thought is the creation of othering," said Rev. Francois, who is a pastor at the First Corinthian Baptist Church in Harlem, New York. "Othering" involves individuals allowing another person's differences to interfere with any search for commonality, understanding, and appreciation.
Francios called upon scripture and noted how Jesus critiqued the system, saying there is still a need today to call systems to task.
"Facilitate dialogue and question," said Rev. Harvey, who described a sort of theological Stockholm syndrome, where those involved fear deconstructing the system that has institutionalized a process of permitting differences to polarize.
In deconstructing this system, Rev. Francois said, people must learn to see what is deeply human and divine in each individual's differences.
"If you flatten my identity, you flatten my difference, which is divine," he said. "I want you to love me with my blackness," he said, suggesting that loving someone in spite of his or her differences, rather than alongside them, is "cheap diversity."
"You can't love someone that you don't know," said Rev. Guidry Jones. "This whole concept of loving someone who is different requires a lot of work."
Jones asked, "when was the last time that we really probed our privilege?"
Hannah Drake, an artist with Roots & Wings who kicked off the panel with a poem, introduced a second one amid this discussion, asking at one point in the poem whether believing delusions makes it easier to sleep at night.
"If it lines the pockets, why would they stop it?" She asked.
The panel referred to the criminalization of poverty, and how individuals operate within institutions in what is believed to be a colorblind era, but actually ignores the preceding logic of racial segregation in the U.S.
Rev. Francois called out the fallacy of adopting colorblindness and suggested reclamation of the prophetic mission for faith and a revolution of theology within a system that targets the poor.
Elizabeth Jones addressed American criminal justice and said as an institutional system, it has intruded into particular communities—often poor ones.
As the panelists referenced deconstructing institutionalized othering, the concept of gender and decentralizing patriarchy surfaced after another word from Hannah Drake, who called upon Sojourner Truth in her poem "Ain't I a Woman?"
Rev. Jones, who preaches at Trinity United Church of Christ on the south side of Chicago, said she attempts to break down patriarchy by incorporating stories of women from sacred texts into her sermons.
These stories, she said, are overwritten with tragedy, but also with overcoming, and with a sense of agency.
Rev. Harvey asked what women needed from men and Jones said the right word would not be "support" but "co-labor."
Rev. Francois said there was a need for men to have a battle with themselves to overcome privilege and biases, something he said was true for both gender and race.
He brought religious institutions into this discussion and said leadership should look like its constituency, and that cosmetic gender diversity did not equal gender equity.
"Our sisters are carrying the church," he said as an example, while noting the lack of reflection of that fact in the leadership.
To influence institutionalized tendencies toward othering, gender inequity, and cheap diversity, the panelists called upon the capacity of religious institutions to put pressure on people with power and lobby for change by educating on the issues and engaging in the political process.
There is need, they said, to do the internal work to understand yourself and the world in which you operate so you can then acknowledge, recognize, and appreciate differences without crossing into polarizing othering.