Identifying, investigating, and preserving sacred spaces was the goal of our fourth Festival of Faiths. Tours of local houses of worship and assemblies of artifacts allowed observers to experience places and tools outside their own community. 
We were led in a procession through Louisville by Muhammad Ali and former Mayor Dave Armstrong at the fourth Festival of Faiths in 1999. We identified sacred spaces and investigated how we can preserve and honor them. We led attendees on curated tours through local houses of worship, and viewed assemblies of artifacts that are used in various worship services.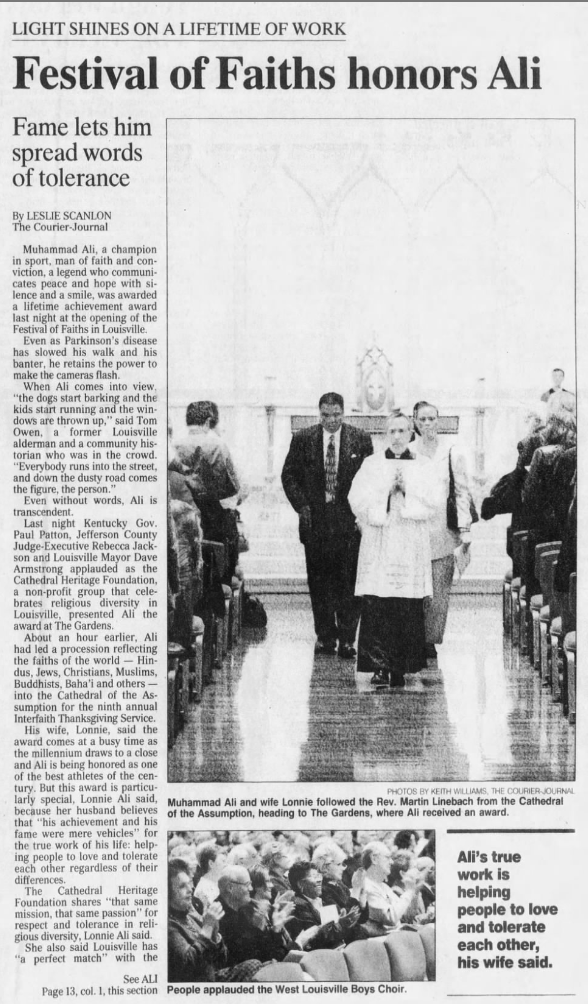 Scanlon, Leslie. "Festival of Faiths Honors Ali." The Courier-Journal, 18 Nov. 1999, p. 1.

Scanlon, Leslie. "Art, Environment, Architecture Play Roles in Festival of Faiths." The Courier-Journal, 17 Nov. 1999, p. 12.