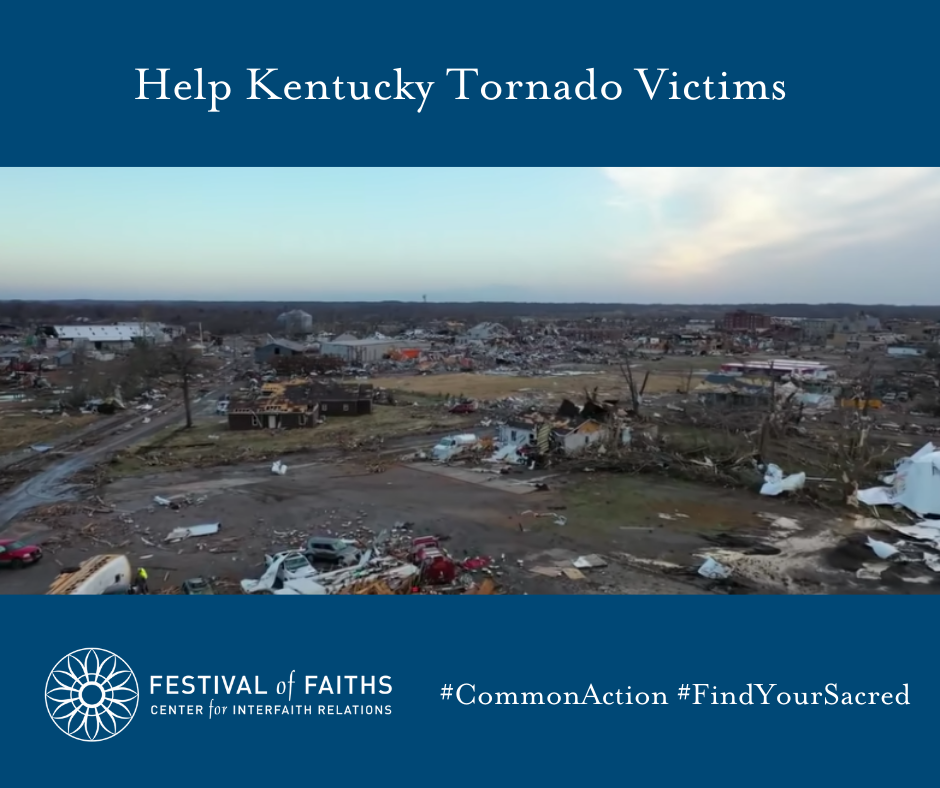 As we pray for those impacted by the devastating tornadoes in Kentucky, let us also join together in providing aid to those who are suffering.
Below is a list of resources — please help in any way you can, and join us in living out our motto of "Many Faiths. One Heart. Common Action."
DONATE FUNDS
Gov. Andy Beshear has established a fund to assist tornado victims and begin rebuilding. Donate online or by sending a check to Public Protection Cabinet, 500 Mero St., 218 NC, Frankfort, KY 40601.
The Western Kentucky Red Cross has launched an online fundraiser on Facebook, making it easy to donate — and to spread the word on social media.
Muslim Americans for Compassion, in collaboration with Muslim Communities of Kentucky, are asking people to donate via GoFundMe, with all proceeds being utilized in direct partnership with the affected communities.
These organizations also are collecting donations online, with 100% of proceeds going to help tornado victims throughout the region:
Find more ways to help at WFPL and the Courier Journal.
DONATE BLOOD
Even before last week's tornadoes, the Red Cross already was experiencing its worst blood shortage in over a decade. That dangerously low blood supply is now worse — and you can help make a difference.
Please click here to find a Red Cross blood drive or donation center near you.
DONATE ITEMS
JCPS, Kentucky's largest school district, is holding a "Stuff the Bus" event to collect donations for western Kentucky residents. Drop off donations in front of the VanHoose Education Building, 3332 Newburg Road, from 7:30 a.m. to 4:30 p.m. every day through Dec. 17.