"Bet your life on it: The seemingly worst things are never the last things with this alchemist God.
God always has something creative up God's sleeve. What that means is: There is a basis for hope, and for never, never giving up."
—Rev. John Claypool
During a 2002 television interview, the Rev. John Claypool said, "Life works us all over before it's done. We're all carrying a sack of rocks of sadness and disappointments." In his soft-but-steady southern voice, the renowned pastor with Louisville roots went on to recount the loss of his only daughter, Laura Lue, who died of leukemia when she was 10 years old.
In the midst of his grief, Claypool had a realization: His daughter was a gift, not a possession, and he was grateful to have had any time with her at all. "I learned in that dark and difficult time that as bad as it was, I was not alone. There was something else at work that was capable of taking bad things and bringing good things out of it."
This realization saved him from a lifetime of bitterness and resentment, and would influence uplifting sermons and written works for years to come.
The Kentucky-born Claypool inspired congregants and the public-at-large over a 55-year ministry that included serving as pastor at several well-known Baptist churches — including Crescent Hill Baptist Church in Louisville (1960-1971) — before going on to become an Episcopal priest. According to Baptist News Global, "He was best-known for a 'confessional' style of preaching that continues to be emulated by many moderate and progressive preachers."
Claypool's esteemed career as a preacher, writer and spiritual counselor garnered a long list of accolades: For example, he was the first Southern Baptist minister to deliver Yale University's prestigious Lyman Beecher Lectures, which were later published as The Preaching Event. Claypool also made significant TV and radio appearances, notably in the popular weekly radio program called "The Moral Side of the News," which gained him an even larger audience.
The Rev. Claypool died of cancer in 2005, but people of faith across many different denominations continue to find inspiration in his legacy — a legacy that includes fighting for civil rights and the ordination of women.
During his memorial service, the Rev. Dr. Kevin Cosby, president of Simmons College and senior pastor at St. Stephen Baptist Church, referred to Claypool as one of his heroes due to his dedication to justice: "He helped to sensitize Southern Baptists to the fact that to be different does not mean to be deficient. And that when God made African-Americans, God was not guilty of any form of creative malfeasance. He helped to promote justice."
A Glad Reunion in Claypool's Honor
The Rev. Cosby will be among a group of 16 presenters at a symposium celebrating Claypool's life and legacy, Sept. 16-18, 2022, at Crescent Hill Baptist. Dubbed the Glad Reunion — inspired by the title of one of his many books — the event is designed to "look back so that we might better understand the present and move faithfully into the future. It is also a time to see old friends, make new friends, share stories, and break bread together."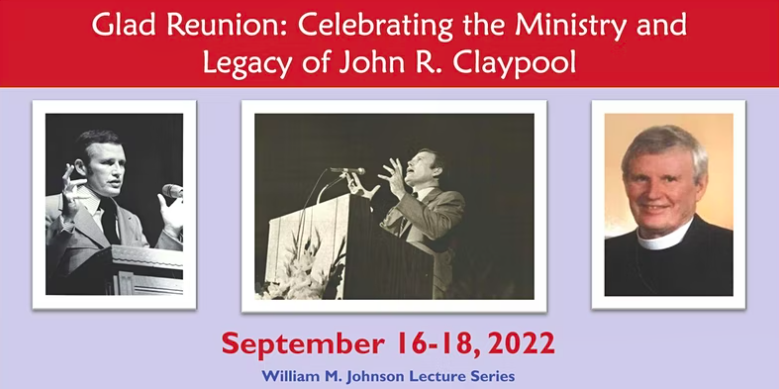 The weekend will shine a light on Claypool's work and provide those who have been touched by his ministry an opportunity to connect and reconnect. In addition to Rev. Cosby, confirmed presenters include a long list of church and civic leaders, congregants and mentees, friends and family — including his son, Rowan Claypool, founder of Teach Kentucky.