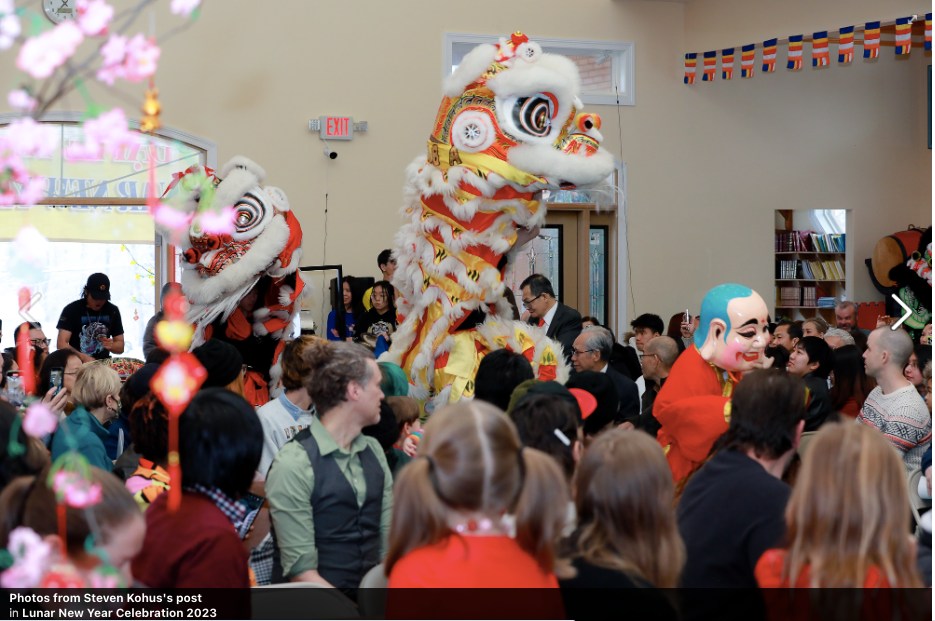 At Buddha Blessed Temple, bright color and beating drums assail the crowd gathered for a Lunar New Year celebration. Outside, snow falls steadily, blanketing the temple's spacious grounds. Shoes clutter the front entrance to the temple at the top of marble stairs, flanked by ornately carved dragons. Inside the large sanctuary, people of all ages and backgrounds, mostly visitors, sit close together in rows facing the altar.  
The celebration's vibrant program features song and dance by children dressed in traditional garb and a teaching on compassion by Rev. Dr. Thich Hang Dat. A raucous Lion Dance complete with elaborate costumes and faux firecrackers concludes the service. Afterward, everyone descends to a community space to enjoy an ample buffet lunch of traditional Vietnamese food prepared by members of the temple. 
Weeks later, on a quieter day, Rev. Thich Hang Dat walks through the now-silent, spacious sanctuary and speaks to the history of this religious community. Although it was founded in 2006, it relocated to its present home in 2015. Buddha Blessed Temple follows the Quy Nguong Zen Buddhist tradition and is affiliated with the Ten Thousand Buddha Summit Monastery in Corydon, Indiana. According to the temple's website, "It is an organization of Buddhist monastic and laity communities that emphasize on practicing Buddhist Mindfulness, Loving-Kindness, Broadmindedness, and Skillfulness that are beneficial to family, community, and society."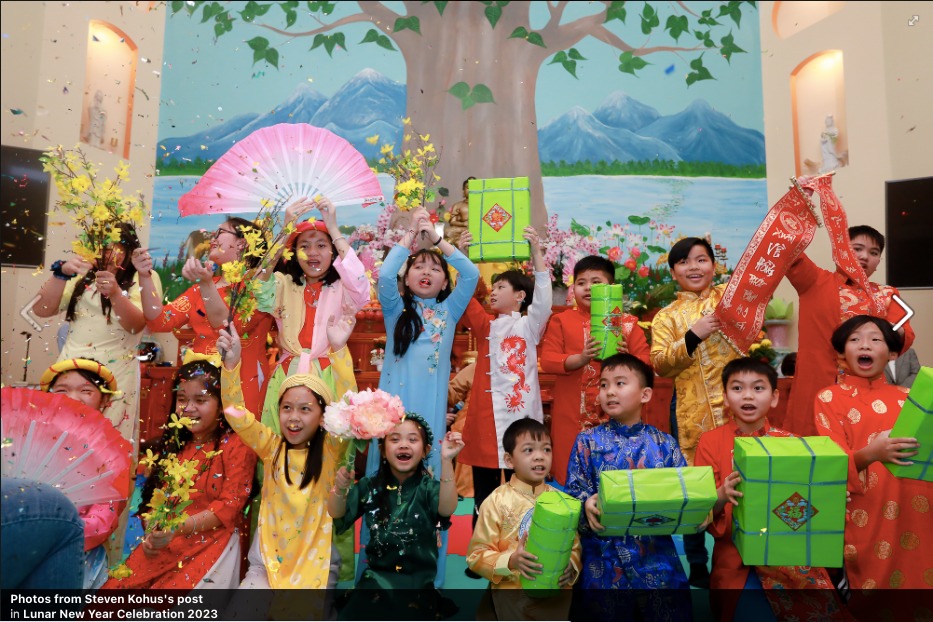 This place is deeply committed to nurturing children, both those involved in temple life and others in the surrounding community. After school and on summer vacation, children and youth meet at the temple for homework tutoring or to learn Buddhist teachings. Rev. Thich Hang Dat assures that the children also spend plenty of time on recreational fun, such as martial arts training and outdoor water play in warm weather. In the downstairs community space, activity mats and toys are ready for the children who will come later that day to learn and play. 
Rev. Thich Hang Dat draws attention to the fountains and trellises outside, beautified by plants now dormant in winter. He shares that they plan to cultivate their 12 acres for neighborhood use. In the spring and summer months, he and temple members will tend garden beds and the woods on the land, growing food to share with families and neighbors and planting flowers in meditative spaces. He also expresses a vision of Buddha Blessed Temple serving as an interfaith, community hub in South Louisville. The inner and outer sacred spaces of this verdant temple promise fertile ground for growth, both for temple members and the wider Louisville community.