Earlier this year, Silas was named Kentucky Poet Laureate for 2023-2025. He's also a New York Times bestselling author whose work includes seven novels, a book of creative nonfiction and four plays. His new novel, Lark Ascending, was an indie bestseller, a Booklist Editor's Choice, and is winner of the Southern Book Prize and the Nautilus Award. In 2022, he was given the Duggins Prize for Outstanding Mid-Career Novelist, the largest award in the nation for an LGBTQ writer.
Silas recently took the time to chat with CIR and answer the following questions…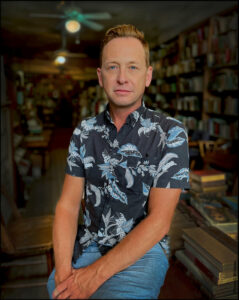 What writers — particularly poets — inspire you?
Mary Oliver has been a touchstone for me throughout my adult life. Her poem "Wild Geese" was one of the pieces of art that helped me come out and to figure out my spiritual life. Maurice Manning's Bucolics is one of the best looks at the complexities of faith I've ever read and I return to it often. I find the poetry of Jane Kenyon, Wendell Berry, Eavan Boland, and to be balms. The poetry of writers like Kathleen Driskell, Nickole Brown, Rebecca Gayle Howell, and Lyrae Van-Clief Stefanon inspire me to strive to be a better poet. I'm also inspired by the poetry and the literary ambassadorship of our Poet Laureate, Ada Limon. And the work of Marianne Worthington, Ron Houchin, Jane Hicks, and Lisa Parker are always comforts to me. The most recent poet I've come to love is the Irish poet Sean Hewitt. Those are all poets. Novelists who inspire me include Marilynne Robinson, Willa Cather, Louise Erdrich, Thomas Hardy, Alice Walker, Barbara Kingsolver, Zora Neale Hurtson, Mona Susan Power, Ron Hansen, Lee Smith, Colm Toíbin…I could go on and on.
Where do you experience the sacred in your daily life?
The natural world. I'm very lucky to have a creek and lots of old trees where I live so I spend a lot of time roaming our property with our beagle. I also feel like the sacred is very near when I'm with my dog. He embodies pure goodness and makes me want to be a better person. But I also think that there is sacredness is being in community with other people. Sometimes when I'm in an airport or another stressful place I want to be as far away from people as possible, but then if I look closely enough I'm always reminded of their holiness, too. I think you have to seek out the sacred but it's not a very difficult search.
Do faith and spirituality play a role in your writing?
Absolutely. I have always loved examining faith and doubt, religion and spirituality. It's present in everything I write, to some degree. I think that most of the time people of faith are portrayed as caricatures in literature. I have always strived to make my people of faith–even the ones with whom I vehemently disagree–into complex, three-dimensional characters. It strikes me as odd that literature either ignores people of faith or makes them into villains or comedic elements; most people do have some kind of faith system, so it makes sense to me to write about those kinds of people. They are most people I know.
How has your faith evolved over the years?
I was raised in a very strict evangelical sect where I was raised to believe in a wrathful, vengeful God. The threat of the lake of fire and entire damnation and rapture–these were all part of my daily life. I left that church when I was seventeen because I could no longer take the bigotry I was witnessing there. For many years I felt like I was wandering alone in the wilderness, trying to hold onto my faith, trying to figure out how I could believe in a religion that had been so harmful to me. But I never let go of the fact that religion and spirituality are not the same thing. I began to see that my faith had very little to do with the church I attended, or did not attend. Still, i wanted to be part of a congregation. I always longed for that: I'm a sucker for communal emotion. But for years I really retained my faith through secular music and literature, through films and art. I was able to more easily find the God of my Understanding in novels like The Color Purple by Alice Walker and music by Ralph Vaughan Williams or Brandi Carlile than I was in church or religious texts. Eventually I came to find a home in the Episcopal church and I feel content with that, although honestly I go to the woods to think about faith more than I go to an actual church service.
Is writing ever a contemplative practice for you?
Writing has always been meditative for me, and, in a way, even prayerful. I think that writing stills and silences me in a way unlike anything else I've ever found.
Do you have any advice for aspiring writers in general, or poets in particular?
For me, language is the most important thing. I am surprised by how many people come to me for writing classes who do not really care about language. They think the story is the thing. But I would argue that it's how you tell the story that makes it work, not the story itself. When you get right down to it, there are only so many stories to tell. But infinite possibilities on how to tell them. So focus on language, on voice, on the specific details. That's what makes a piece of literature come to life. You must care deeply about the written word. You must worry over every sentence. You must love language.