2013 Festival of Faiths
"Sacred Silence: 
Pathway to Compassion"
The 18th annual, Sacred Silence: Pathway to Compassion, combined an interest in contemplative practice within an interfaith forum to explore the nature of sacred silence. The goal of this exploration was to provide an opportunity for spiritual growth for the largest possible assembly of people.
Programming was carefully selected to reflect the 2013 Festival's dedication to the historic 1968 meeting of the His Holiness the Dalai Lama and Thomas Merton (a Trappist monk at the Abbey of Gethsemani in Kentucky). This remarkable meeting took place in India at the home in exile of His Holiness, bringing together the leading representatives of Eastern and Western contemplative spirituality. As a result, a new unity was created, wherein each tradition was greatly benefitted by the other.
The Festival featured renowned experts on meditation and compassion, drawn from the faith traditions of the world and recent scientific research on compassion. The 2013 Festival of Faiths was privileged to collaborate with the Drepung Gomang Institute, the City of Louisville and the Thomas Merton Center at Bellarmine University in preparing a program of events leading up to the arrival of His Holiness the Dalai Lama.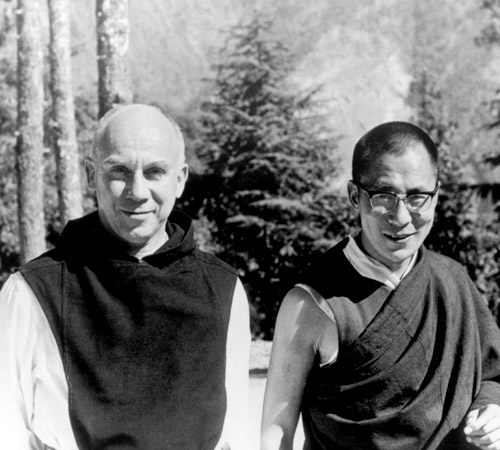 Only in silence and solitude, in the quiet of worship, the reverent peace of prayer, the adoration in which the entire ego-self silences and abases itself in the presence of the Invisible God, only in these "activities" which are "non-actions" does the spirit truly wake from the dream of a multifarious and confused existence.
-Thomas Merton
Ultimately, the reason why love and compassion bring the greatest happiness is simply that our nature cherishes them above all else. The need for love lies at the very foundation of human existence. It results from the profound interdependence we all share with one another.
-The 14th Dalai Lama