Our four-year series looking at the stages of life continued in 2008 with the theme Coming of Age. This 13th annual Festival of Faiths featured discussions that touched on the individual experiences of growing up, our evolving national identity and narrative, and the power of forgiveness.  
Winona LaDuke, an Ojibwe community organizer, discussed how the founding and growth of our nation was at the expense of indigenous populations. Solange Maniraguha of Rwanda's Quaker community visited Louisville to demonstrate how her country's chapter of the Center for Interfaith Relations was working toward peace and reconciliation. We joined the Muhammad Ali Center for a high school workshop where we heard the perspective of people growing up in the digital 21st Century. And we visited the Home of the Innocents campus to wander the labyrinth and reflect on the journey of life.  

Smith, Peter. "Louisville's Interfaith Model Aids Rwanda." The Courier-Journal, 4 Aug. 2008, p. A1.

Smith, Peter. "Author Seeks to Improve Religious Literacy." The Courier-Journal, 13 Nov. 2008, p. B1.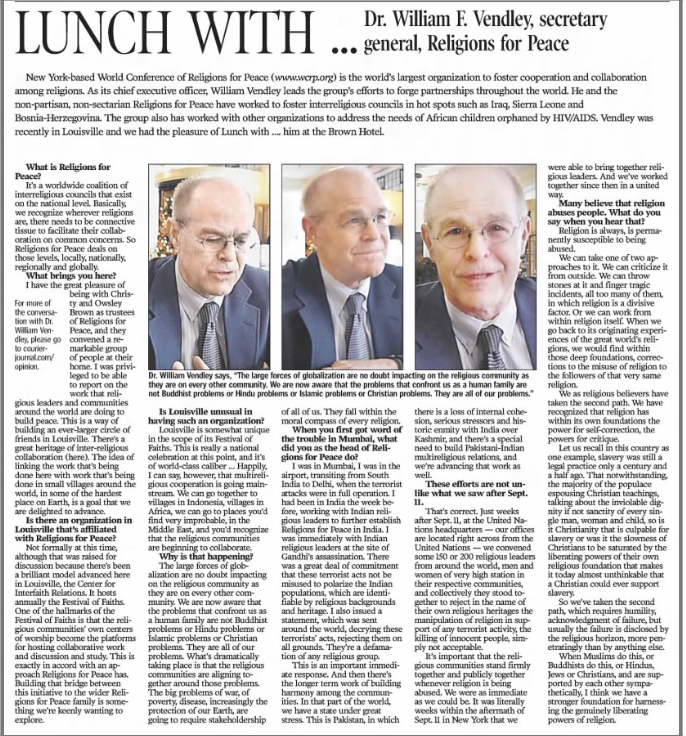 Opinion. "Lunch With… Dr. William F Vendley, Secretary General, Religions for Peace." The Courier-Journal, 19 Dec. 2008, p. A12.

Arnow, Jan. "Join in the 2008 Festival of Faiths." The Courier-Journal, 10 Nov. 2008, p. A6.