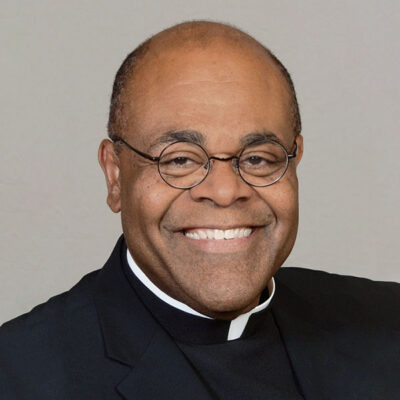 Father Anthony Chandler was ordained a priest of the Archdiocese of Louisville on May 27, 1989. Born on April 15, 1961, in Louisville, Father Chandler was baptized at St. Augustine Church. He attended St. George School and Bishop David High School. He attended Western Kentucky University and St. Meinrad Seminary and School of Theology for college. He then attended the Catholic University of America for major seminary. He also completed postgraduate studies, earning a master's degree from the University of Louisville in 1985 and an MBA from the University of Maryland in 1993.
Father Chandler has served as pastor of Holy Family Church; St. Bartholomew Church; St. John the Apostle Church in Brandenburg, Ky.; St. Martin of Tours Church in Flaherty, Ky.; Immaculate Conception Church in La Grange, Ky.; and St. Francis of Assisi Church.
He served as associate pastor of St. Martha Church and as administrator protempore at St. Martha, St. Raphael and St. Michael churches. He also served as co-chaplain for St. Xavier High School.
Father Chandler has served the archdiocese as a consultor and president of the Priests' Council. He has also served as director of the Vocation Office, defender of the bond, as a member of the Archdiocesan Planning Committee and the Catholic Schools Athletic Association. He has served on several boards, including the One Church/One Child Adoption Board, the Holy Cross High School Board, the National Finance Committee-National Black and Indian Mission and the St. Meinrad Board of Overseers. He also has served as vice chancellor for the Archdiocese of Military Services.
Father's most recent assignment before assuming the appointment as Rector of the Cathedral and Vicar for Priests was serving as president/CEO of Catholic Charities in the Archdiocese of Fort Worth, Texas.